I was sitting with my children, niece and nephew today as my mother-in-law shared the story of Jesus´ birth while setting out the nativity scene. It has become an annual tradition. She does it so well with music in the background, dramatic pauses, and interactions with the kids. I see their eyes light up when they began to "hear" the angels singing. Then it was time for the wisemen to come into the picture bringing their gifts of gold, frankincense and myrrh. The question then hit me, "what is the significance of these three gifts?" 

I went and did some research and as I was learning about these gifts, the Holy Spirit began to speak to me through it. I felt prompted to also share this, as I believe these gifts resemble something for us as well. The gifts have a powerful foreshadowing to the life of Jesus but I believe there is an invitation in these gifts for us as His Body, His Church, His Bride to also bring an offering to our King in this Christmas. 

GOLD
Gold is an obvious gift and out of the three is the one that still today is very valuable. At the time Jesus was born it was a precious metal that only men as rich as kings possessed. Gold was a symbolic gift that acknowledged the authority Jesus has as a king. 

There were two things that came to my spirit when I read this. 
1. Is it obvious that Jesus is our King through the way that we live our lives? Is He really our Lord? Or do we only come to him with our sin or needs. I wrote a song years ago called "Sit Enthroned" and the bridge sings "You are my king, enthroned to be my everything." So many times we come to Jesus with our needs, our wants and to ask for forgiveness. Maybe we forget his kingship in our lives.Yet the Son of God came to earth for so much more, a relationship with us. Our good King wants everything, and in exchange gave us everything He owns. So what is the "gold" in your life you are hanging on to and not fully giving to him? Is there anything that you value more than Him? 
2. Your faith is more than gold to Jesus. 

"so that the proof of your faith, being more precious than gold which is perishable, even though tested by fire, may be found to result in praise and glory and honor at the revelation of Jesus Christ." 1 Peter 1:7 

We are living in times where so many are walking away from the faith or are diluting it with their own self-serving  interpretations. I think of Jesus´ words when he questions, "when the Son of Man comes, will He find faith on earth?" (Luke 18:8) 
There is so much going on right now, a lot of crisis in the world and uncertainty of the future. But when we yield our hearts to the Lord and we allow Him to use our circumstances to shape us in the fire with trust and knowing He has our best interest in mind no matter what, our lives and faith becomes pure gold.
"And He will sit as a refiner and purifier of silver; He will purify the sons of Levi and refine them like gold and silver. Then they will present offerings to the LORD in righteousness. Then the offerings of Judah and Jerusalem will please the LORD, as in days of old and years gone by."  Malachai 3:3,4 
I believe there is an invitation in this, to offer Jesus a renewed commitment and acknowledgement of faith and give him the crown of your life, crowning him as YOUR king. 

FRANKINCENSE
Frankincense was considered the best kind of incense, the name even means "pure incense." It was burned as incense by Jewish priests in the Sanctuary and used in worship. As rising the smoke represented the rising prayers to Heaven. This gift of incense from the Magi signified the divinity of Jesus and the future High Priest he would become. 
 "A Psalm of David. O Lord, I call upon you; hasten to me! Give ear to my voice when I call to you! Let my prayer be counted as incense before you, and the lifting up of my hands as the evening sacrifice!" Psalm 141:1-2

"And another angel came and stood at the altar with a golden censer, and he was given much incense to offer with the prayers of all the saints on the golden altar before the throne, and the smoke of the incense, with the prayers of the saints, rose before God from the hand of the angel." Revelations 8:3, 4
I believe there is a new fresh invitation from Heaven to enter into a deeper prayer and worship lifestyle in this new era we are entering into. A lifestyle where our automatic response is to turn to Heaven and listen for our Father´s Voice and instructions. A lifestyle of renewed dependency and trust beyond what our eyes see and our minds understand. A lifestyle of worship that breaks the spiritual strongholds around us and carries an atmosphere of His Presence. This is the fragrance the Father is seeking from us this Christmas. 

MYRRH

Myrrh was used as a painkiller in biblical times, as well as a treatment for sores, coughs, infections, and worms. It was given as a medicine to Jesus on the cross, but Jesus refused so he could feel the weight of all our sin, sickness, and pain to bring us into true life through His sacrifice. It was also used on Jesus´ body after he died as an embalming oil. Some scholars believe Myrrh was given to Jesus at his birth was because it resembled the hard times that he would endure and it foreshadowed his death, as it's name means "bitter." Other scholars believe it resembled Jesus as the Healer because it was used as medicine. 

This third gift I believe is an invitation to go deeper in the revelation of the Blood of Jesus and everything He endured on the cross. A fresh understanding of communion when we take the bread and wine remembering the sacrifice and "eating his flesh and drinking his blood." A time of stepping into the life that he purchased for us to live out and know what it means to be one with Christ with His blood flowing through our veins. Living and abiding in His healing, His protection, His provision, His miraculous power, His love for others, and His victory over the enemy. 

"And I heard a loud voice in heaven saying: "Now have come the salvation and the power and the kingdom of our God, and the authority of His Christ. For the accuser of our brothers has been thrown down—he who accuses them day and night before our God. They have conquered him by the blood of the Lamb and by the word of their testimony. And they did not love their lives so as to shy away from death." Revelations 12:10-11
I encourage you and invite you to respond with taking communion this Christmas together as family. Giving thanks and remembering His sacrifice while believing for the new glory He has given us to walk in. I know I am provoked to do a deeper biblical study of the blood of Jesus in this season, to get some fresh revelation and abide in Him and what is available to us from He has given. 

I hope this has encouraged you this Christmas to think more about these 3 gifts and to know that there is also an invitation for you to offer Him something as well....
1. GOLD- A renewed commitment to Jesus as YOUR King, purified faith
2. FRANKINCENSE- Rearranged priorities for a deeper prayer & worship lifestyle
3. MYRRH- A cry for revelation of the Blood of Jesus, and living out what He purchased
My daughter is really excited about Christmas, but she remember that it is mostly Jesus´ birthday. We bake a birthday cake for Him on Christmas Day and sing happy birthday to Him. 

What will be your birthday present for Him this year? 
----------------------------------------------------------------------------------------------------------------------------------------------------
I am really excited to share with you my new book, "Worshipers Rising: A Biblical guide to releasing authentic worship in your nation," available this new year 2022!  More details to come! I also have a freebee also that will follow this book!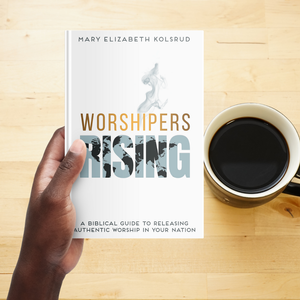 Also head over to our Disciples of Worship Academy and check out some of our new courses we have available!