Finding true love can feel like a complete miracle. Honestly it is. And then choosing the right person to spend the rest of your life with is one of the biggest, if not the biggest, decision you'll make in your life. I remember feeling this was so out of reach for me at times in my season of singleness. I didn't want to compromise my standards of the quality man I wanted to marry, yet there were low moments where I contemplated it because it felt like it was never going to happen. Yet God was faithful. I decided to do this blog series on love & relationships because I have talked with so many other men and women in this place I've walked through, and I hope to be of some encouragement. So I'm opening up my process with love and relationships with you. My upcoming album release - Live Love Dream is full of songs expressing a lot of this season. If you haven't read my previous blog posts "Are you STILL waiting for Mr./Ms.Right?" and " How do I know if he or she is the right one? Part 1" I encourage you to do that first before you continue reading Part 2. 
In Part 1, I began sharing about the four C's: Chemistry, Character, Commitment, and Calling. I feel this is a great simple way of processing others we may be interested in and consider your "potential" relationship or spouse through. We already started with Chemistry and Character. Now let's continue with the other two. 
Commitment- 
It should seem obvious that a person's commitment is a foundation stone to a lasting relationship and marriage, yet in this day and age I hate the fact that Christian divorce rates are just as high as non-Christians. Why is that? Why do people give up so easily and quickly? Of course there is no condemnation for those that ended up on this road. I know a handful of situations where people fought hard not to get to this point and it did. But how can we prevent this from happening before it ends up there? 
The mindset you come into a relationship or marriage with is important. Ole Martin and I both have divorce in our families, and we talked about how we felt about it. When we got married it was no longer a part of our vocabulary. It was not a choice or an option. I believe many divorces end up happening due to selfishness. If you're looking for someone to be with because you are wanting them to fulfill your needs, then you have the wrong mindset. You need to change your perspective on relationships before you are even ready to begin one. It takes both people being willing to give to the relationship to make it succeed. I have heard stories of couples that one is giving everything to the relationship and the other is just receiving. This is unhealthy and won't work. 
I remember at our wedding, our Pastor, Svein Høysæter, encouraged us with these words: "Take the risk to be the first to love and don't wait for the other one to love you first." This is sealed on our hearts. I think about this often. It's the little things that mean the most. Right now we are living in a temporary small apartment in Redding, CA, and we don't have a dishwasher. Neither of us enjoy washing dishes, so when the other one chooses to do the dishes first, you really feel loved. Sacrificing your desires or comfort for the other's sake or comfort is a display of love and commitment. 
If you're in the dating or courting stage, it's important to observe this in the relationship. Are they selfish or self-giving in their decisions? Do they consider you first? And do you consider him/her over yourself? If you are only observing the person from a place of friendship and are curious about this possible "potential," how do they consider others around them? 
I love this scripture: "We know what real love is because Jesus gave up his life for us. So we also ought to give up our lives for our brothers and sisters." 1 John 3:16 This is the ultimate display of commitment and real love. We follow after his model.  "We love because He first loved us." 1 John 4:19 
Calling- 
I have been in different spiritual environments where I was taught that a person's calling was elevated to be THE most important thing to look for in a person you want to marry, and it better line up with yours otherwise it won't work. This kind of mindset is so binding and limiting. In my first post I mentioned this mindset briefly. I had thought I just needed to go after God and my calling, and one day I would look beside me and find a man doing the same thing running beside me. Well that was partly true. Yet with this mindset I was looking for a replica of myself in a man. I am a strong leader type woman so I had thought I needed an even stronger outspoken personality-type man to lead me and to run beside. For so many years my eyes were looking for that guy, and I couldn't find him; while the guy I was to marry was really in front of me for 3 years without even noticing him. 
One day God opened up eyes to the quiet, reserved, handsome man behind the soundboard at my church. For weeks that led to months I was curious and wanted to know him more. I observed him from a distance exchanging several glances and smiles. But from what I could observe on the outside, he didn't fit into my box or ideal man that I thought I needed. There was something that kept drawing me to him. When we finally did start up conversation, there was a spark I couldn't deny. I took the risk, and we started dating. There was so much peace in getting to know him, and as I got to know him more I discovered he is what my heart was longing for. There would be things he would do or say that only God knew were in my heart. And it was as if God was giving him the keys to my heart that no man was able to open before. It wasn't Ole Martin's calling that drew me to him, it was the person of WHO he is. It was also the same for him toward me. He fell in love with the whole person I am, not my calling. With some of the other guys that have tried to pursue me in the past, it felt like they were more attracted to my calling or anointing on my life then the person I really am. A person's calling can look different in different seasons of life also. So dating or even marrying someone for just for their calling can be dangerous.     
A person's calling is still a very important consideration, but we need to relook at what that means. One thing that was very important to Ole Martin was having kids. We had this conversation very early. He didn't want to go further in our relationship if I didn't want to have kids. And understandably looking at my life of traveling all the time, I could have seemed like someone being content with not having a family. But this is something we both desired and agreed upon. To be a father is a strong desire and calling for Ole Martin as being a mother is for me. I love to travel and go where God leads to empower others in worship and their life with God. I have been living out my calling for many years and leading a worship school and now the ministry Disciples of Worship. Ole Martin honored the call of God on my life toward ministry and it inspired him to really want to do more with his. He was working as an I.T. guy and living a simple life. He communicated to me he wanted to make more of a difference with his life, help others, and use his gifts and talents more. I discovered his music talents that he had that were unseen and buried for years. We started leading worship together and dreaming of how God wants to use us. That's when we decided to go to Redding, CA and be a part of Bethel Church for our first year of marriage. Ole Martin is doing the school of ministry here and is still in the process of identifying his calling. We are building our marriage on a strong foundation and growing in our calling together as a couple. 
This is my story, but I know many other couples that do very different things from each other and are a strong support and strength for each other. It can actually be so refreshing to come home to something else than your work and hear about someone else's day. This can be a benefit to leave work at work. Your potential mate doesn't need to be running beside you doing the same thing, but their calling should compliment your calling and values in some way. Our calling isn't necessarily our job either. I believe our destiny is to love others and our calling is the expression of what that looks like and how we live that out. 
Therefore, I want to encourage you if you're looking for the right one and you haven't found this person yet. It's okay, God is faithful. He or she will come. It's worth the wait. Don't compromise. At the same time, are you like I was looking for a replica of yourself or noticing only a certain personality type that you ignore the possible treasure in someone else? Be open. Take a risk, there's no harm in getting to know people. Especially you men. Just ask her out, there's no harm in that. Enjoy the process of getting to know someone. Most importantly, follow the peace. If you don't have the peace then end it. If you're in a relationship right now and you are so emotionally invested in it yet are lacking the peace of God in it, I implore you to be brave and cut it off. I know it can be hard. I've been in a place like that before and it was hard to cut emotional ties. But it is so worth it! God has your best interest in mind. He's not going to leave you hanging. He's not withholding anything good from you. If you feel that he's withholding something, it's only because there is something WAY better ahead. Believe it! I've walked through it and am now on the other side. And this side of marriage is beautiful and worth all the challenges in my singleness. 
I hope these four C's were helpful to you, or maybe just hearing someone else's story is helpful. I pray that you will find that person in the right timing and know which one is the right one to choose. I pray God will strengthen you with patience during the waiting and vision to live your life to the fullest now. I pray for hope to be alive and well. I pray for your eyes to be open to see the treasure that God has for you in someone else and that their eyes also become opened. I pray for courage to take risks when God is leading you to and protection from the enemy and any form of temptation to compromise. You are worth the wait, and so is your spouse. 
As I have mentioned in earlier, I am releasing a full-length album called "Live Love Dream" on February 14, 2017. These songs reflect this season of waiting, discovery, falling in love, and commitment. You can purchase it on my site here after the release date or on iTunes here: https://itunes.apple.com/album/id1199718495?ls=1&app=itunes
My 3 song EP is out NOW and you can download it for free on NoiseTrade. Here's the link: http://noisetrade.com/maryelizabethkolsrud/live-love-dream-ep 
One of the songs on the EP download is called "Falling Fast." It's the first song I wrote for Ole Martin when I was falling in love with him! When you listen to it you will recognize some of these values I shared in the song. 
If you have enjoyed this blog post, please share it and hope it will inspire and encourage many others! Let me know what you think, please comment with your thoughts or questions and experiences on this subject. 
Love <3 
Mary Elizabeth Kolsrud 
www.maryelizabethmusic.com  
 
---
ALBUM RELEASE FEB 14, 2017 Valentines Day!!!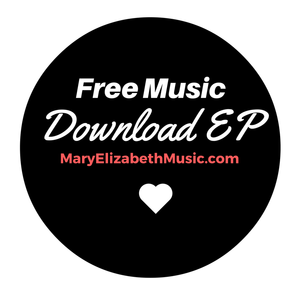 Read Previous Blog Posts from the Love & Relationship Series: