How do I know if he or she is the right one? Part 1 
Recently I have come out of my season of waiting. I got married at age 30. Never did I expect to wait so long to get married. Yet it's not that uncommon these days. I shared in my earlier post about my challenges and experience with fighting for hope in the waiting. Click here to read it. 
The question has come up a lot, (as if God destines two people to be together despite all circumstances.) I don't know that answer, but I would probably lean more toward the direction that love is a choice. Now, I have heard of incredible stories of God giving dreams, visions, or even speaking audibly to people to bring them together. That is awesome, and it is their love story. Yet I also believe God trusts us with the Holy Spirit's guidance to trust our hearts to make that right choice. I have been told by a couple guys at different times that God told them I was "the one," yet I didn't hear the same thing about them. We need to be careful with this belief. If some people are not strong enough, they could be easily manipulated into a relationship without feeling they have a choice because someone said "God said it."   
So the question then is,  
There have been so many opinions and books about Christian dating or courting. I want to share a little of what I have learned from my experience of waiting, getting to know those that may be "potentials," listening to the Lord, and receiving wisdom from others. Everyone has their own unique story, so as you read, I am not saying this is how it is for everyone. But I have come to learn it's a lot simpler than we make it. In my teenage years and early 20's I had a long list of qualities I wanted in my husband and many people probably thought I was way too picky. I was so focused on ministry it didn't matter so much. But as I grew closer to my 30's, the longing to do life with someone was much stronger, and I learned more about what matters. That's when I finally found the love of my life. Reflecting back on that time I can encourage those that are in this season of life to consider "potential mates" through the Four C's: Chemistry, Character, Commitment, & Calling. In this post I will address the first two from my experience. Be looking for the next post where I'll continuing sharing on Commitment and Calling. 
Chemistry - 
Honestly, I believe this is one of the most important factors to a long-lasting strong marriage. You're going to be with this person for the rest of your life, so you better have good chemistry. Do you have fun being with this person? Do you come alive around them? Do they bring out the best in you and you in them? Do you feel peace around them and comfortable being yourself? Are you attracted to that person? 
I remember when Ole Martin and I started dating this was one of the things I noticed right away. We just loved being together. It didn't really matter what we did, there was so much peace in getting to know each other. We both felt excitement but relaxed in being ourselves with each other.  It was fun. We were also very different from each other, almost exact opposites, but it also brought a beautiful tension in our chemistry. We discovered how well we balance each other. I'm not saying you need to be opposites to have good balance and chemistry. It was and still is actually a challenge in our relationship that we saw beauty in and embraced. 
I would be around other guys in the past years that I considered "potentials" and there just wasn't the same peace I experienced with Ole Martin. Being a strong woman I felt competition from some guys, like I threatened them and needed to lessen myself to make them feel like "the man." That wasn't being myself. Or there would be a great guy with so many good things going for him yet there just was not that romantic attraction there. Or there would be other things that lacked chemistry and the peace that held me back. It really showed me how valuable this is in finding your right mate. Ole Martin had similar experiences in the past with getting to know girls and lacked the peace. There would always be some hesitancy holding him back, until he met me. ;) 
Chemistry is vital, but it can't be the only thing that leads you to choose a life partner. 
Character - 
Someone once told me character is what you are in the dark, when no one is watching. This is a huge deal because it is the foundation of your marriage. A person's character is formed by the set of values they carry in their life. Someone can appear passionate and amazing on the outside to please others around them, while living differently inside. So how do you see someone's character? I don't encourage stocking the person at night to see what they are doing alone. Haha.  But observe carefully how they make decisions, what is important to the person, what do they talk about a lot, how is their relationship with God, and their level of honesty. 
I remember on one of our beginning dates I asked Ole Martin straight up what were his values. Haha. I wasn't messing around. I don't recommend doing that so directly. I mean looking back on it, how do you really answer that in the moment? Poor guy. Luckily, I didn't scare him away. He took that challenge and asked if he could think about it more and get back to me. A couple days later when we were together he got out his ipad and read off a list of things he had thought through and written down that were really important to him in his life and important to have in a relationship. I would say that was one of the defining moments for me that really won my heart. His genuineness shined through his words and I watched him and observed how he lived out what he told me. One thing I loved the most about him was his honesty. He didn't hide things from me, yet was brave sharing his imperfections and struggles. No one is perfect, so being honest, right up front with each other created trust in the relationship. We both value this highly in our relationship being open and honest. Some other ways to find a person's character is by observing how they treat others and how they are with their friends and family in a relaxed environment. Ole Martin held family so high in his values and it meant a lot to me to see how he cherished his family. I knew he would do the same with the family he would have one day. Character is important and I think it shines through when it is tested. We have been through different testing times as well and I will share more on that in another post. 
I look forward to continue sharing on this topic and continuing with Commitment and Calling in my next blog post. Stay tuned. 
As I have mentioned in my previous posts, I am releasing a full-length album called "Live Love Dream" on February 14, 2017. These songs reflect this season of waiting, discovery, falling in love, and commitment. You can purchase it on my site here after the release date or on iTunes here: https://itunes.apple.com/album/id1199718495?ls=1&app=itunes
My 3 song EP is out NOW and you can download it for free on NoiseTrade. Here's the link: http://noisetrade.com/maryelizabethkolsrud/live-love-dream-ep 
One of the songs on the EP download is called "Falling Fast." It's the first song I wrote for Ole Martin when I was falling in love with him! When you listen to it you will recognize some of these values I shared in the song. 
If you have enjoyed this blog post, please share it and hope it will inspire and encourage many others! Let me know what you think, please comment with your thoughts and experiences on this subject. 
Love <3 
Mary Elizabeth Kolsrud 
www.maryelizabethmusic.com  

If you're interested in booking a workshop on Purity, Love, and Relationship or a Songwriting or Worship Seminar email me at maryelizabethmusic@gmail.com
 
---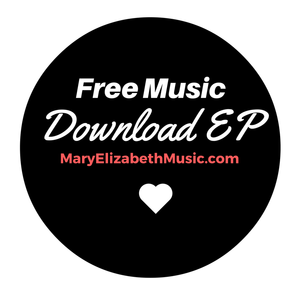 Full Length Album released February 14, 2017!