Are you STILL waiting for Mr./Ms. Right? 
Waiting..... 
It's not the funnest place to be in, especially when you are specifically waiting for a spouse; and not just anyone but the right one. I think the female gender has it the hardest in this area as statistically there are almost twice as many Christian women than Christian men. Living in Norway/Europe, it feels like the gap is even bigger. I really felt I was to marry someone in Europe preferably a Norwegian so I really felt this gap. I have so many amazing godly women in their 30's and some in their early 40's STILL waiting, and so many of us wonder why they are still single. I remember thinking how much of a miracle it is finding your life partner. 
It can get lonely in the season of waiting. Ever since I was young, I was told to embrace your season of singleness and man, did I do that! I traveled across the country to almost every state in America living on a bus with 30 other passionate young adults putting on large youth gatherings for a ministry. I helped start a school of worship in Texas. I moved to Norway and traveled around Europe starting a worship ministry, Disciples of Worship. I wrote and released music. I loved my life and embraced everything I could! It was an adventure with God, and He deeply filled that place in my heart for love. 
I was encouraged to simply go after your calling and pursue God- then in the right timing, God will bring someone right beside you that will be doing the same thing. That was partly true (I'll hit on this more in Part 2). During my early 20's I didn't worry too much about finding my spouse because I was following God's calling and I had time. I had no doubt it would happen. 
When I started approaching my later 20s and getting close to 30, feelings of loneliness and hopelessness started to creep in and only grew as years passed. Watching so many friends marry and begin to have children was beautiful and yet hard to not feel like God was holding out on me. I knew the truth and believed His good character, but it still felt far from me at times. I felt content with God, yet at the same time a piece was missing that felt more real than it did before. Songwriting became my therapy where I would pour out my heart to God but also write about this season of waiting. I felt God challenge me to not just write worship songs, which I was used to doing in the past, but to create from this raw and true place in my heart about what I was feeling and experiencing. During this "therapy" He showed me that this was true worship. 
Many times I have sang songs in difficult times declaring truth and praise over situations, but this time I felt God say, "No, let me hear your heart and feelings. Let me listen to them. Let it all out." So I wrote and sang. Some of these songs no one will ever hear, but some of them I felt were to be used as an encouragement to others in that same place.   
Breakthrough... 
I believe a shift began in my heart when I was in Melbourne, Australia with my ministry family, Sounds of the Nations putting on a conference. Several people started speaking into this area in my heart. I had been "prophesied" over many times about my husband "coming soon," and it was getting to a point where I stopped listening because nothing was happening. Yet this time it was different. God started opening my heart again for hope. A friend of mine, Lyn Lasneski, is an amazing prophetic painter, and she gave me a painting she had painted earlier in a conference. She felt it was specifically for me, and some of its attributes correlated with my future husband. I took that painting home and hung it up in my bedroom. I looked at it every night before I went to bed and prayed with hope, thanking God for the man that carried the attributes I saw in this painting. 
There was a new spark in my heart, a trust with God, and a fresh certainty of His faithfulness. It was less than 6 months after my trip to Australia I began dating the man I would soon later marry. 
Have you ever read the story of Jacob and the speckled and spotted sheep in Genesis 30:29-43?  In a nutshell, Jacob takes a branch and makes stripes and specks in it by peeling off the bark in certain places. He puts this branch in front of the water trough where the sheep would mate. When they gave birth they were streaked, speckled, or spotted lambs. This is such a powerful testimony of vision. I believe what we put in front of our eyes, we end up believing, becoming, or producing. This can minister to so many different areas in our lives. BUT in this particular area---- I needed HOPE again. This painting gave me hope in God's promises and what he had spoken to me about my future husband- to believe it and finally to receive it. 
So for those of you who are STILL waiting and maybe can relate to some areas of my story and feelings, I want to encourage you. Keep the hope alive. Don't believe the lies. Keep fighting for hope. Put something in front of your eyes that you can see to remind you of what God has spoken to you about your future spouse. Believe in His promises. He is so good! <3 
As I mentioned earlier, writing songs became an outlet for me during this season. I decided to compile these songs into a full-length album called "Live Love Dream",  which will be released on February 14, 2017. You can purchase it on my site here after the release date or on iTunes here: https://itunes.apple.com/album/id1199718495?ls=1&app=itunes
My 3 song EP is out NOW and you can download it for free on NoiseTrade. Here's the link: http://noisetrade.com/maryelizabethkolsrud/live-love-dream-ep 
One of the songs on the EP download is called "What Are You Waiting For?" It's a charming song from my season of waiting and admiring someone from a distance and waiting on them to make a move ;) 
If you have enjoyed this blog post, please share it and hope it will inspire and encourage many others! CLICK here & scroll down to subscribe to my mailing list and get updates on music and more things like this!

Now I leave you with this scripture: 

"May the God of HOPE fill you with all joy and peace as you trust in Him, so that you may overflow with HOPE by the power of the Holy Spirit." Romans 15:13

Love <3 
Mary Elizabeth Kolsrud 
www.maryelizabethmusic.com
www.disciplesofworship.com


If you're interested in booking music for your wedding or booking a workshop on Purity, Love, and Relationship or a Songwriting or Worship Seminar email me at maryelizabethmusic@gmail.com

Click HERE to read the next BLOG in the Love & Relationships series.
---
    Purchase Album here: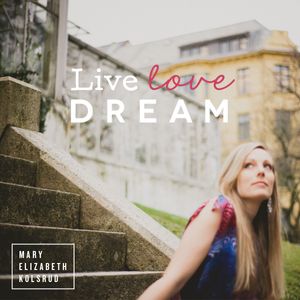 Read next blog: